StackWave Webinar Series - Antibody Discovery LIMS
Antibody Discovery LIMS Webinar
Friday, December 2 - 12:00pm EST

Zoom Webinars (link provided upon registration)
Learn how modern discovery teams use a LIMS to:
Understand progress toward program goals
Identify and track performance indicators for each team in the organization
Bring to the surface opportunities to exploit hard-won insight from previous discovery efforts
Make data-driven decisions and increase organizational efficiency
Webinar registration requires a valid business email address for a company involved in antibody discovery. Submit the form below and you will receive an invite when your the webinar link is finalized.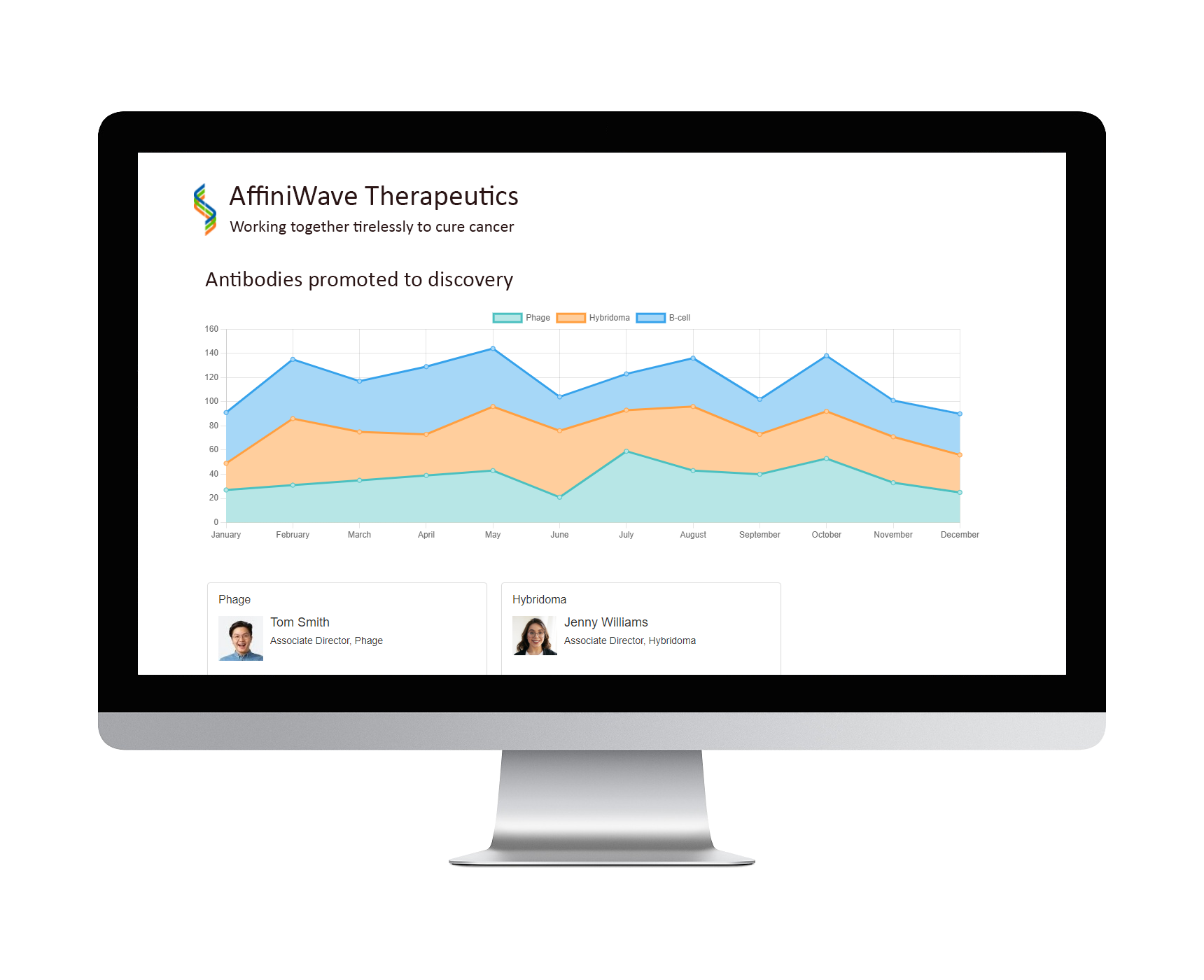 StackWave Affinity™ - Powerful Features
Solutions for antibody discovery
Hyrbidoma Production
Manage the complexity of hybridoma campaigns with an animal study management solution that connects seamlessly with hybridoma plate generation. Generated plates can be screened, sequenced, filtered, and lead antibodies identified using a set of tools that combine assay data, sequence analysis, and custom reporting.
Phage Panning
Phage panning allows you to narrow the enormous diversity represented by your phage libraries to a manageable set of antibodies for further study. Create visual designs of your phage panning experiment to track which combinations of antigens and other inputs produced the most promising leads.
Lead Characterization
StackWave Affinity provides workflows for phage, hybridoma, and single B-cell campaigns, assay data management, sequence analysis, custom reporting, and plate generation in a single solution. These tools integrate seamlessly to help discovery teams quickly identify their most promising lead antibodies.
Sequence Analysis
Leverage Affinity's built-in sequence analysis tools to identify the unique antibodies in your discovery campaign results without having to license or build a separate bioinformatics system. Additional sequence search tools take advantage of Affinity's sequence and variable region databases to quickly find related sequences.
Realized Value
Improve efficiency with real data
Increase the rate at which new antibodies are discovered and promoted to downstream R&D phases.
The StackWave Affinity LIMS supports your entire antibody discovery process from target identification and campaign initiation through lead identification and characterization.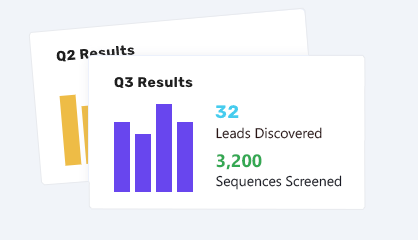 Antibody-first LIMS
Made for antibody discovery teams
StackWave's Affinity LIMS provides the industry's first fully-integrated antibody discovery solution. Unlike other systems that graft an incomplete collection of tools onto an ELN or chemical registry, Affinity was designed from the start with antibody discovery companies in mind.
One solution for all your data